The dual skilled challenge has been issued. Ride and run. The sprint distance multisport event is offered as a virtual only competition in 2020. Participants receive an incredible shirt and stunning finisher medal.
Registration
Register to participate in the inaugural Marine Corps Duathlon to bike and #RunWithTheMarines. This event replaces the Quantico Tri on the 2020 event calendar.
Registration fee for the Virtual Marine Corps Duathlon is $28 and will open May 20, 2020. Registration includes a participant shirt, finisher medal and other special digital amenities. The virtual event must be completed by August 31, 2020.
Registration and any associated purchases are final and not refundable by the MCM Organization or any of its partners. Virtual registrations are non-transferrable or deferrable. Any updates or changes to your registration can be made by logging into your participant account or emailing MCM Customer Service.
Distinguished Participation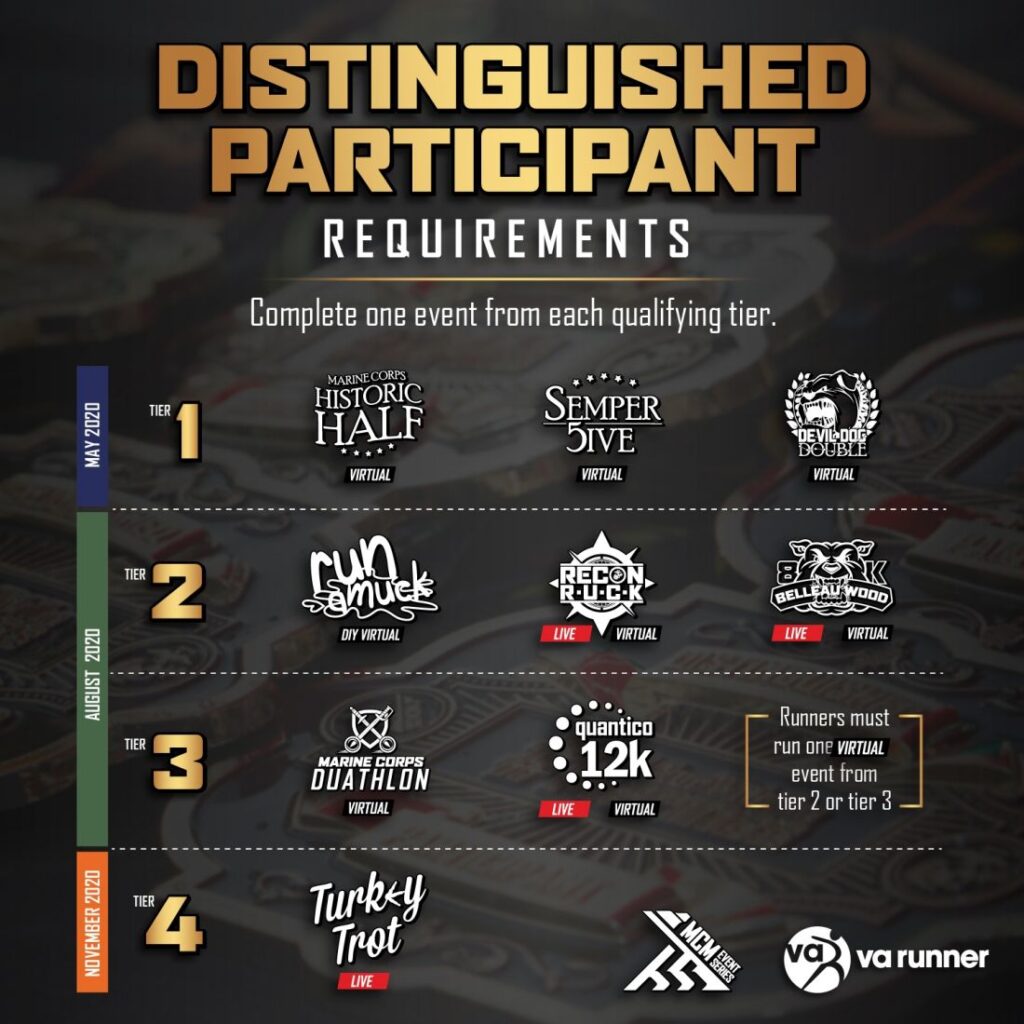 In partnership with Always Advancing and sponsored by VA Runner, local running specialty store, the Distinguished Participant medal will be presented to runners who have participated events on four specific events, either in person or virtual, during 2020 including:
The Distinguished Participant medal, recognizing a year-long commitment to running with the Marines, is awarded to qualified runners after they finish the Turkey Trot in November.
Sequence
Run (5K) – Duathletes start a 5K run.
Bike (20.4K) – All athletes must put on their helmet and snap the strap before mounting their bike. The helmet must remain on and buckled until the athlete completes the bike route, dismounts and racks their bike. Not following the helmet rules may result in a disqualification (DQ). Follow the local bike lane regulations on your virtual course. It is important to use extreme caution in your neighborhood.
Run (5K) – Duathletes will complete the challenge with a 5K run.
Results
Visit the interactive 2020 Marine Corps Duathlon results. The arrow next to a runner's name offers a drop-down menu providing a clickable link to share results and open an individual finisher page.
Related Articles
In 2024, runners can now register for all five event weekends at one time with the 2024 Distinguished Participant bundle. Take on the Marine Corps 17.75K, Marine Corps Historic Half, Quantico 12K, one of the MCM Weekend events (MCM10K, MCM or MCM50K) and the Turkey Trot and earn a special medal! The Distinguished Participant bundle […]
In 2024, the Semper Fidelis Challenge will once again encapsulate the Marine Corps Marathon Organization's three premiere events and bring them together in an exciting new way. The Semper Fidelis Challenge will now be available as a bundle! This bundle will go on sale November 17 for Active and Reservist military and November 18 for […]
On Sunday, October 29, 2023, Marine Corps Marathon Weekend runners were faced with unseasonably warmer conditions leading to a rapid increase in medical support. During the event, it was advised by our local Emergency Medical Service partners and the MCMO medical team to implement two gauntlets earlier than planned for the health and safety of […]