Four months after getting his amateur radio operator (HAM) license, Scott Larimer joined the Marine Corps Marathon Organization's (MCMO) volunteer group. It's his way of not only giving back to the community that has been a part of his family for generations but also an opportunity to practice his skills as a HAM operator.
A talented videographer, Larimer also supported the 2019 Marine Corps Marathon (MCM) by filming the HAM training for all the HAM operators who were unable to attend the meeting.
As we highlight his efforts for National Volunteer Week, here's what Larimer had to share about his experience volunteering with the MCMO:
What inspired you to start volunteering?
My parents instilled the volunteer and community service spirit in me at a young age. We didn't always have a lot growing up but my parents' philosophy was you always had yourself to give. Every organization outside of my work that I have ever become a part of has been because of their community service and volunteer work. From Cub Scouts to most recently radio amateur operator, it has always been about community service.
What attracted you to the MCMO?
My family has a long history with the military. I can easily trace continual service back to the Civil War. My grandfather, my uncles and my father all served. On March 25, 2021, I celebrated 30 years of service as a U.S. Navy civilian employee. Anything I can do to help the military or military organization, I will.
How long have you been volunteering with MCMO?
My first event with the MCMO was the Marine Corps Historic Half Weekend in Fredericksburg, VA four months after getting my amateur radio license.
What motivates you to stay involved?
I enjoy the events and the comradery of the other volunteers, staff members and participants. I have never met a participant, volunteer or staff member who has not been a pleasure to interact with.
What's your favorite part of volunteering at MCMO events?
The participants in the events who are there just to have fun or to prove to themselves they can do it. There is something about their spirit that just instantly improves your mood and sticks with you.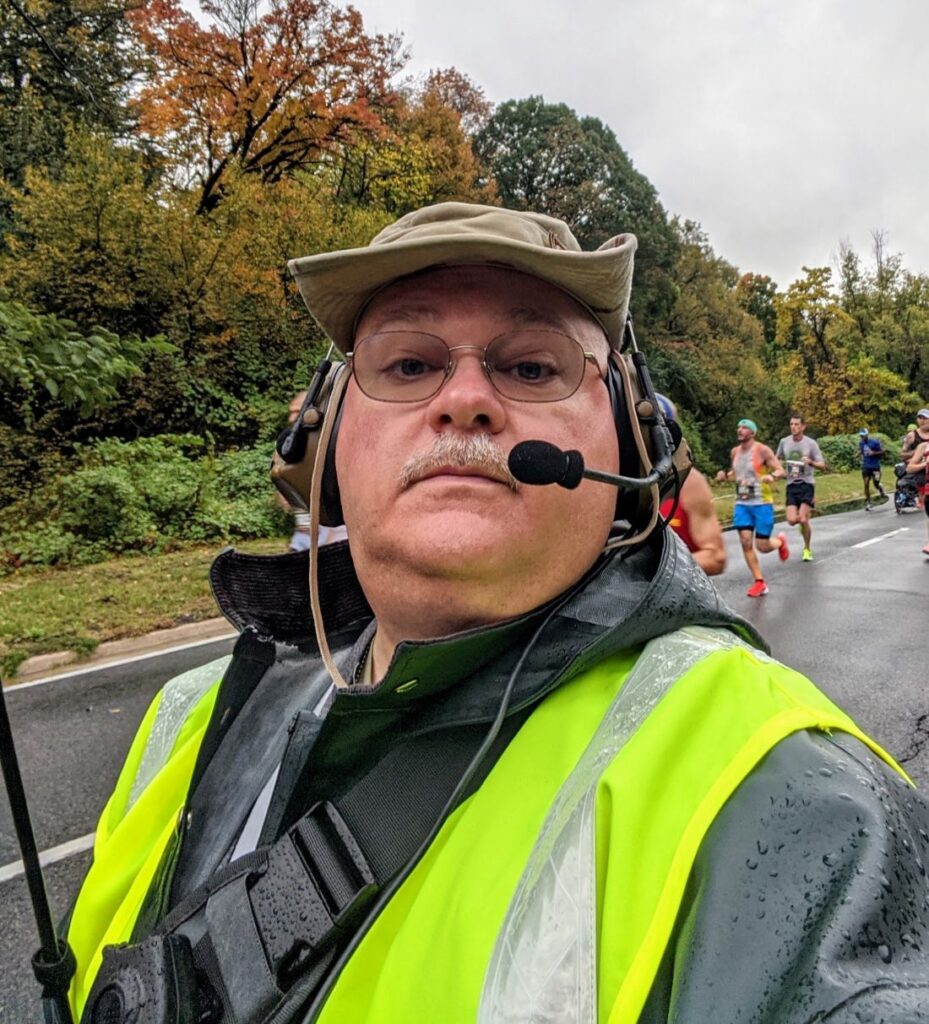 What is your most vivid memory from your time as a MCMO volunteer?
In the very dark early morning hours of October 27, 2019, I had gotten on station in the pouring rain as an amateur radio operator in the middle of Rock Creek Park; they hadn't shut down the road yet but would be soon. A vehicle stopped in the middle of the road and the driver asked for help in very broken English. His rear driver side tire was completely flat, he didn't know how to change it and he had sleeping kids in the back. Luckily, he had a spare but no jack and no lug wrench. I got my lug wrench and jack and proceeded to change the tire – reflective gear on – with some traffic still going by on both sides. I get the lugs broken loose, but my jack won't work with his car. Just then the Marines show up to help save the day. A NASCAR pit crew would have been proud. We picked up the back corner of the car, had the flat tire off, spare on and car back on the ground in under 60 seconds. We finished tightening the lugs and the car was on its way with the kids still asleep. Race course cleared. Mission accomplished.
What would you tell someone who is thinking about volunteering?
Just do it! It is an absolute pleasure working with the staff, other volunteers, Marines and runners. There are jobs for everyone no matter what your skill set is. The most important job of all is to be there and support the runners no matter what your primary role is.
When you last volunteered, how was the experience?
My most recent event was the Marine Corps 17.75K on Quantico. This was my first event since COVID-19 with the MCMO. It was different, but everyone was just so happy to be able to participate in a race as a group, so it was great. As a ham, we are into our gadgets. This event gave me the opportunity to bring out my Darth Vader mask with built-in comms to use for the first time in an actual event. It made for some fun comments and jokes.
What do you wish other people knew about the MCMO?
The MCMO is a very professional and supportive organization. Everyone I have ever interacted with from full-time staff to first-time volunteer has been kind and supportive. The sheer scale and planning that goes into the MCM Weekend is spectacular. As an Amateur Radio Emergency Communications Coordinator, it has taught me a few things. I would highly recommend volunteering at any of the MCMO events.
If you're inspired by this feature, check out volunteering opportunities with the MCM Organization.