The 2019 Marine Corps Marathon (MCM) was awarded Gold level certification by the Council for Responsible Sport, an organization that independently verifies the socially and environmentally responsible work by sports events.
This is the second time the MCM has earned the Gold level certification. Previously, the MCM earned Silver level certification in 2009 and again in 2011, and first earned gold in 2014.
"We are honored to be recognized by the Council of Responsible Sport as a Gold level sustainable event for the second time," said Angela Anderson, Deputy Director of the Marine Corps Marathon Organization. "The MCMO and our entire running community, including sponsors and partners, remain committed to ensuring we are continually improving our sustainability efforts and encouraging practicing green behaviors at all of our events."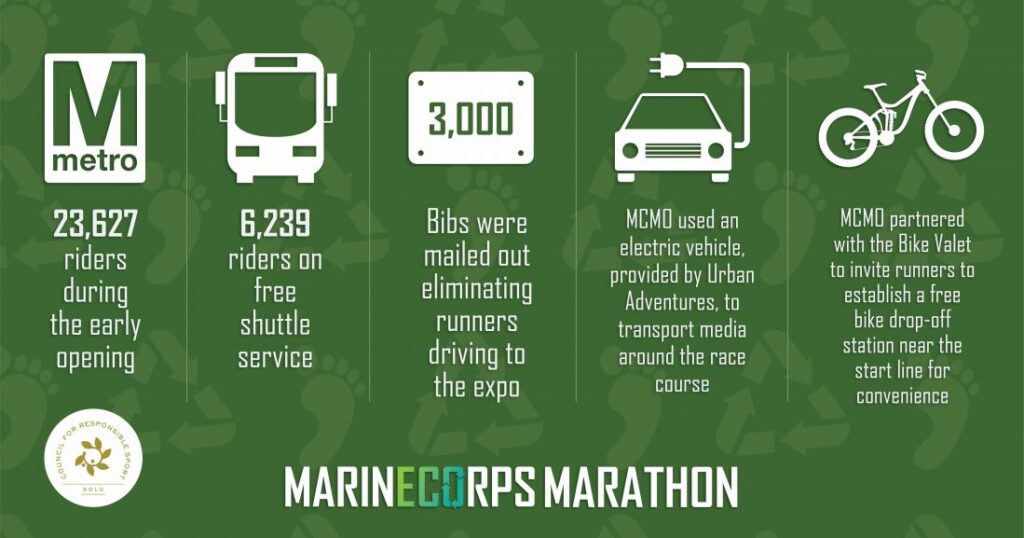 In an effort to reduce the environmental footprint at the start and finish lines and on course, the MCMO partnered with various agencies to implement a comprehensive waste reduction system. By the end of the three-day weekend, more than 2,500 pounds of banana and orange peels were collected from runners for composting, 9 tons of plastic jugs and cardboard boxes were recycled and 5,000 pounds of unused perishable food was collected through the nonprofit organization, Move For Hunger, and donated to the Capital Foodbank. MCM sponsors Fyffes and Wegmans supported these efforts.
New Practices
To replace the non-recyclable cups used at the 13 water points along the marathon course, the Arlington County proposed a pilot program with a new composter that allows composting of the cups. A total of 1.4 tons of cups were recycled.
Additionally, MCM organizers decided to place cup-less water stations, known as Water Monsters, from mile marker 19 to just in front of mile 22 to help runners through a stretch of the course that had previously been without water. Cups were not dispensed at this location. Instead, the 125 gallon dispenser offered multiple spigots for runners to fill personal water bottles, reducing the environmental footprint of water distribution.
As a result of the waste diversion efforts for the 2019 Marine Corps Marathon races, 25% of disposed items from the start, course, and finish line were diverted from landfills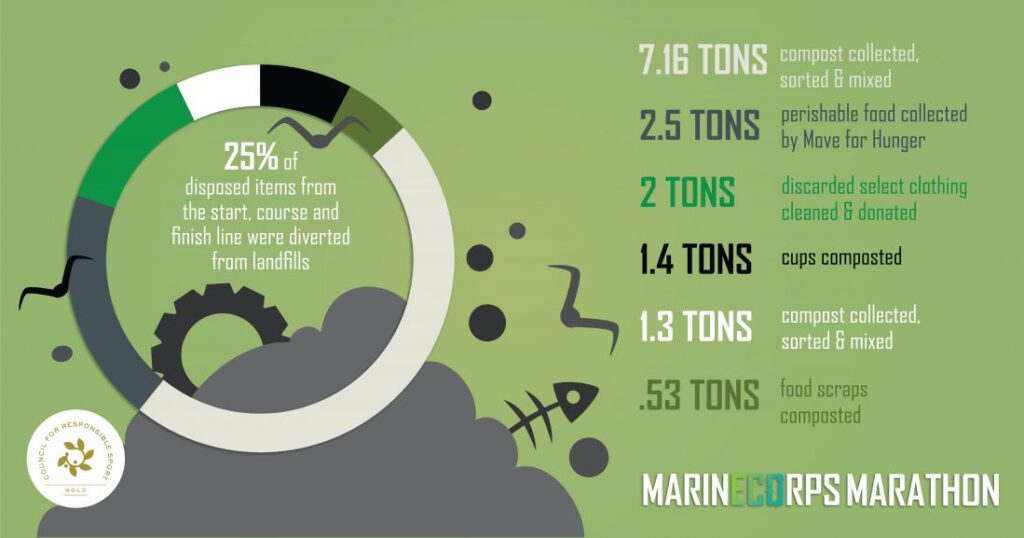 According to Shelley Villalobos, managing director of the Council, "The Marine Corps Marathon was an early adopter of the Council for Responsible Sport standards and has long been committed to continual improvement. This new gold level certification is an indication of the competence and thoughtfulness the organizers pour into this event year after year to make it the unique experience the event weekend is."
For more information on the Marine Corps Marathon Organization's green initiatives, please visit https://www.marinemarathon.com/about/going-green.