Did you know that our Volunteers tracked 17,027.9 hours in 2022? From virtual packing to finish line Hospitality, our events are filled with the incredible people supporting the Marine Corps, the community, our runners and our organization. In honor of National Volunteer Week, we wanted to highlight the various roles of the individuals that make this well-oiled engine go. Even introduce you to a few!
Without our volunteers, we couldn't do it. It's as simple as that.
---
Course Operations
If you have ran a road race, you have likely taken a sip of water or sports drink, snacked on nutrition or high fived the person telling you the correct turn to make as you journeyed from the start to finish. On the rare occasion, it may have been a staff member or a vendor. Most of the time, it was a volunteer.
You previously met the medical team, but now we want to introduce the vast amount of individuals responsible for our Course Operations. As you may have predicted, it is quite a lot of people filling very diverse roles.
baggage
Some runners like to have a change of clothes for after the race or would prefer to not run with their phone. Enter our Baggage Volunteers! As a runner, all you have to do is bring your items in the appropriate clear bag with the sticker found on the bib to the designated tent or truck. These men and women will have your items at the finish line once you have successfully completed your event!
One volunteer who can sometimes be found at Baggage is Hien Nguyen. Quite versed in many of the roles, Nguyen has been a part of the MCMO Volunteer Team since 2018. After running his first MCMO event, Nguyen was so appreciative of the volunteers that he ran and helped with his next event.
"The joy of being a volunteer exceeds the small service I provide as a volunteer. I attain great joy from partaking in the patriotism, discussions with Marines and absorption of their ethos, adoption into a new family – the MCMO, and the birth of a core group of fellow friends and volunteers. The smile and gratitude of the runners is so precious," shared Nguyen. "My favorite role is where I am most needed. At times, I have volunteered in a different role than what I signed up for because the coordinator needed more assistance there."
"My best memories are observing the love and encouragement in its different forms. After a race, I stayed to listen to Mr Nealis, prior Race Director, give a pep talk to the Marines – "Never discount the small part each of you plays in the big overall success of the runners," stated Nguyen. "As a volunteer, at the October Marathon event, I became a spectator to a small group of persons who kindly and loudly cheered and motivated each of the last stragglers on, most likely all strangers."
"I encourage anyone who is selfless, dedicated and friendly to volunteer. What activity could you possibly do that would be more rewarding and fun than volunteer, run or even both on a Saturday or Sunday? Being involved with MCMO has motivated me to achieve a lifetime goal – running the past three 26.2 runs virtually so I can volunteer in person."
Pace Cars
Not a volunteer position that immediately comes to mind, but quite important as a pace car can be the difference in someone staying on the certified course or not. Our faster runners can probably attest to this more than most!
These drivers are the individuals that help direct your top runners as they make their way along the course. Always in communication with the Race Operations Center, these volunteers are able to provide updates on the course, alert of any issues prior to the mass race field arriving and inform of the eventual overall winner's progress.
You could say they are the "Action" call for the rest of the course when it comes to "Ready, Set and Go."
Course Marshalls
For those not being paced by car and running through the break tape, no worries! There are plenty of smiling faces ready to help guide you along the route.
Often a role filled by Marines, Course Marshalls direct participants of upcoming route irregularities, such as speed bumps or a turn around point. They are also another set of eyes helping keep runners safe.
Water Points and Food Stations
Probably one of the most noticeable volunteer positions are those facilitating our Water Points and Food Stations. Any runner knows what I am talking about!
Every MCMO event will have Water Points located every couple miles along the course. Meanwhile, Food Stations will be found in designated areas for the longer distances, such as the Marine Corps Historic Half and Marine Corps Marathon. Staffed by 20 to 50 civilian volunteers, often working alongside Marines, these stations are extremely important as they can be a participant's main source of fuel and hydration. From setting up, preparing for the participants, supplying runners as they pass and cleaning up, it can be quite a long day.
Just ask the Mountain View High School Marine Corps Junior Reserve Officers' Training Corps (MCJROTC) who have been volunteering at a Water Stop since 2019! During the Marine Corps 17.75K, this upstanding group is responsible for the station around mile two and mile nine.
"One of the tenets of the Marine Corps JROTC program is volunteerism through community service. Sergeant Major Allen Tanner, the Marine Instructor, and I both enjoy running and have run the MCM a few times each so we decided that this was a good way to show our cadets how they could enjoy running while also providing community service," said LtCol. Richard S. Barnes, USMC (Ret.), senior marine instructor at Mountain View High School MCJROTC. "We take pride in how well our water stations are maintained. I had several runners during the 47th MCM stop to tell me how clean and well maintained our water point was. I believe this is because the cadets have become more proficient at keeping the running course clear of debris through experience."
"My favorite moments have been watching the cadets motivate the runners regardless of whether they are in first or last place," expressed Barnes. "We run with all of our cadets, and they have to pass a 1.5-mile run in a certain amount of time to be promoted. Cadets that support these events are able to see that running can be fun and they realize they too can complete these races. It's also great to see them interact with active duty Marines."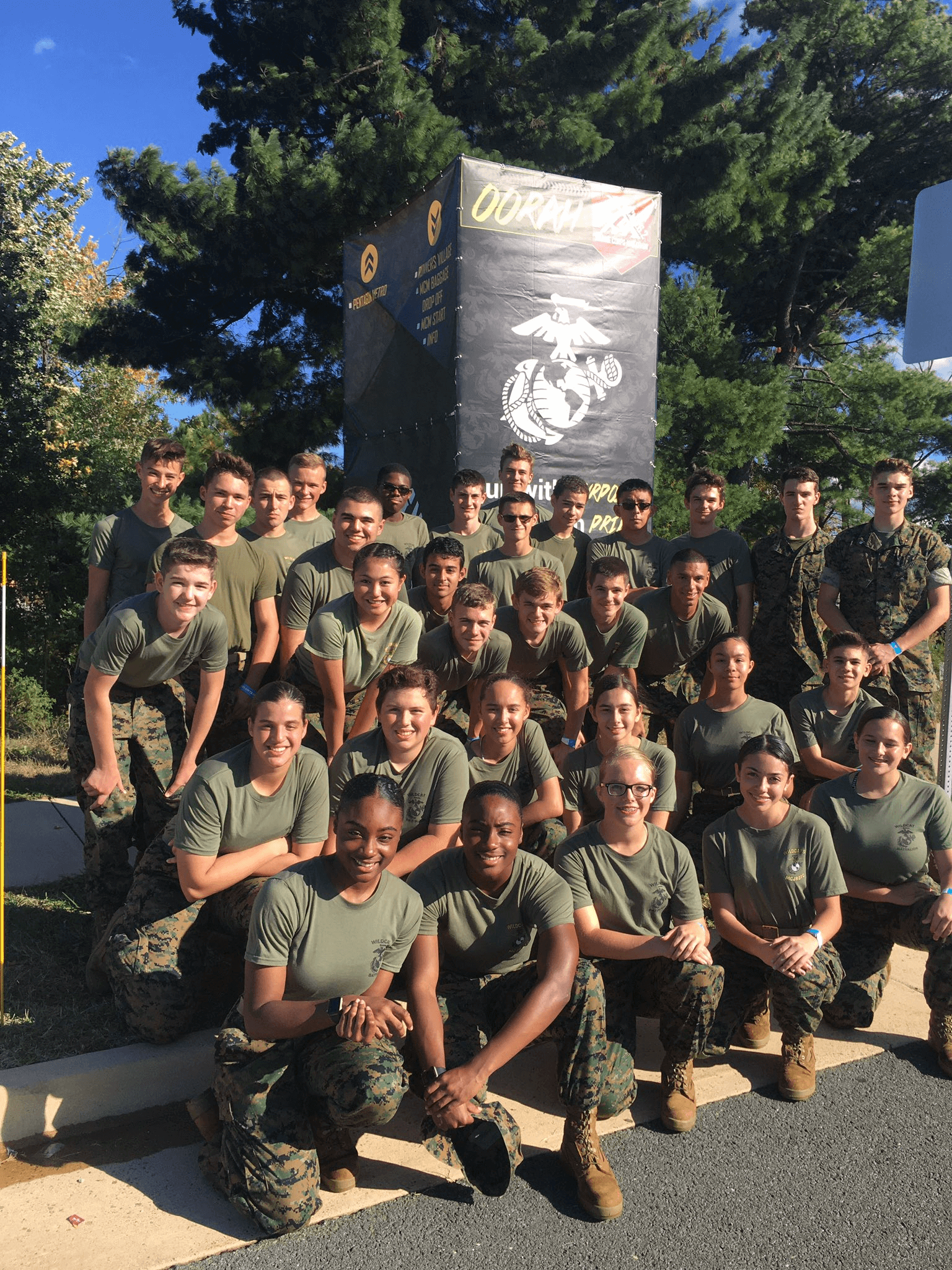 "To other organizations that would like to volunteer to run a water point for a big race, I would say plan early and get motivated. Try to include at least one or two big community service events as part of your annual training plan so you can fit them in around competitions and other activities," stated Barnes. "Enthusiasm is a force multiplier. If the instructors are motivated to support a race, the cadets will be also. Once it's included in your annual plan, the senior cadets will take ownership."
amateur radio Operators
Amateur radio operators, known as HAM, are another set of communication and eyes at vital points along all MCMO events. Found at all Aid Stations, Commands, Mile Markers and Water Points, these individuals are in direct contact with the Race Operations Center providing any and all information deemed necessary to pass along.
Hospitality
Anyone who has participated in a running event can tell you how great that sip of a drink and a bite of food can be upon finishing. After burning those calories, you have certainly earned a snack so welcome to Hospitality!
Water, a sports drink, fruit and more are available for runners as they walk through the finishing chute toward Finish Festival. Sometimes provided in a pre-packaged bag, a-la-carte or in the MCM Fit Fuel Box, these essentials are to give your body back the nutrition needed so that you can continue to celebrate your accomplishment.
Arriving sometimes prior to the start of the event and staying until the very last runner, these volunteers are another set constantly on their feet for hours. One staple face you will find passing out bananas is Lindsey Stoil, who has been helping at Hospitality since 2020.
"I started to volunteer after my son's first race (which was the 2019 turkey trot). I figured why not help out since I was going to be at the event anyway and volunteers are always needed," explained Stoil. "I continued to volunteer with MCMO because it's such a great staff and team. The culture they set is really good and it's part of the reason why I keep coming back."
"Sometimes the weather is great on race day but sometimes it's really crappy. It's those bad weather days that the volunteers are needed the most as some do not show up or stay for their entire shift. As long as you check the weather and dress appropriately the bad weather days really aren't that bad," expressed Stoil. "If you are looking for a family friendly organization to volunteer for, please think about volunteering with MCMO. They are flexible and you can volunteer just once or volunteer many times for many different events. Their flexibility fits my schedule as both a single parent and working mother."
Fun fact, Stoil's son is often one of the top finishers in his age category before joining her as a volunteer!
Key Volunteers
There is often a need for extended "Staff" to head up some important sections during event week, from pre-event to clean up. This is where Key Volunteers come into play.
"Key Volunteers have earned MCMO's trust from years of providing invaluable direct support to the staff," expressed Bret Schmidt, operations manager at MCMO. "They are an extension of the Staff that are entrusted with essential operational aspects of the race ensuring safety, security and runner experience."
---
"Creating memorable, achievement-oriented, experiences for our participants is the mission of the Marine Corps Marathon Organization. A mission that's enabled by the dedication of over 2,300 volunteers who support every phase of each event on an annual basis," expressed Alex Hetherington, MCMO director. "The "must do, will do, can do" reputation of the United States Marine Corps is what inspires both our runners and volunteers, and is the essential difference in quality and degree which defines Marine Corps Marathon Events!"
These volunteers are part of the main event making their impact on the experience quite significant. Thank You.