It's true: love is really a marathon and not a sprint.
Crossing the finish line after running 26.2 miles is an emotional and triumphant moment for most marathon runners, but for some, the occasion is made even sweeter with a proposal.
The Marine Corps Marathon (MCM) course has definitely witnessed its fair share of finish line proposals and love stories over the years. Here are four that will melt your heart:
Severn & Perle
Severn met Perle in August 2014 at a mutual friend's housewarming party. He described her as "friendly, kind and the life of the party," and yet she would always circle back to him and strike up a conversation over drinks. Over time, they got to know each other and he realized she was the one.
"I knew she was the one on Memorial Day 2018 when I was sitting out on the beach in Ocean City. And since that May, I was wondering how I would propose to her," shared Severn.
Growing up, Severn remembers watching his father compete in numerous Ironman Triathlons and his mother running the MCM twice. It was always his dream to run the MCM as his first marathon and he thought it was the perfect way to ask Perle, a cyclist, to join his family of endurance runners.
"I knew when I got the e-mail saying I was officially entered in the MCM that I was going to propose. I wanted to do it in a big way and earn my way through the greatest milestone of my life (to date)."
On the day of the 44th MCM, Perle called Severn just as he hit the wall at Mile 23 and cheered him on to the finish line over the phone. "I knew no matter what the weather held that day I had to finish because she would be my sunshine at the finish line. Thankfully, the rain stopped near the end of the race!"
He's hoping they'll be running the next marathon as husband and wife.
Frédéric and Jessica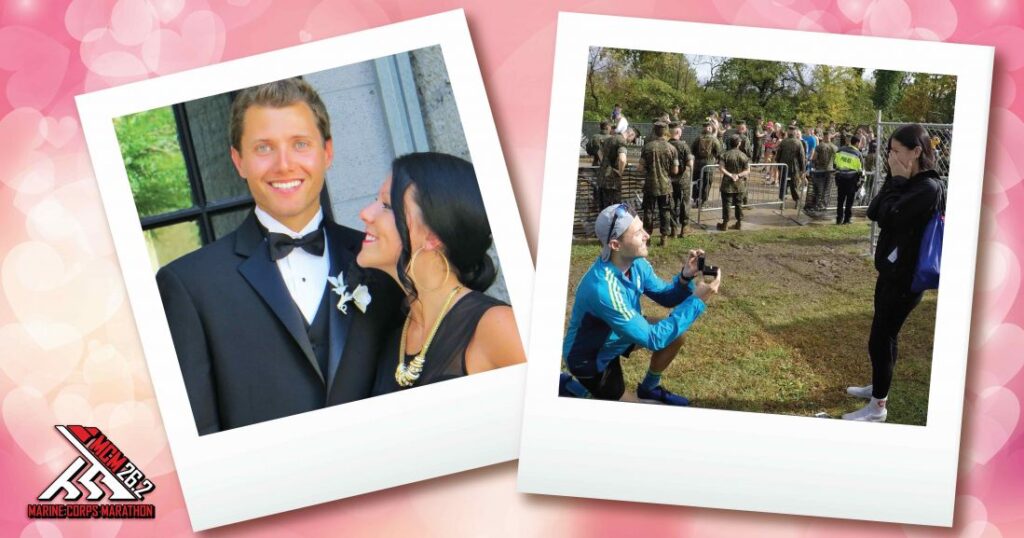 Frédéric had seen Jessica around town, but never spoke to her. During a college party, he finally struck up the courage to talk to her and learned they were also in the same program but two years apart.
The two started dating on Jessica's birthday in September 2013 and soon after, Frédéric started running and participating in triathlons. Jessica supported and motivated him through it all, even riding her bike alongside him during his long runs.
"Jessica is the best supporter in the world. She motivated me throughout my training and preparation to complete the Mont Tremblant Ironman in 2018. So, it was only natural that I propose to her at the finish line of a race."
Frédéric was already signed up to run the MCM50K, his first ultramarathon and 11th marathon in his running career, when he realized this was the perfect opportunity as Jessica and their parents would be there. "The number 11 is also Jessica's favorite number, so everything was perfect!"
The couple will be getting married in Canada in September 2021.
Chet-Tyler and Amanda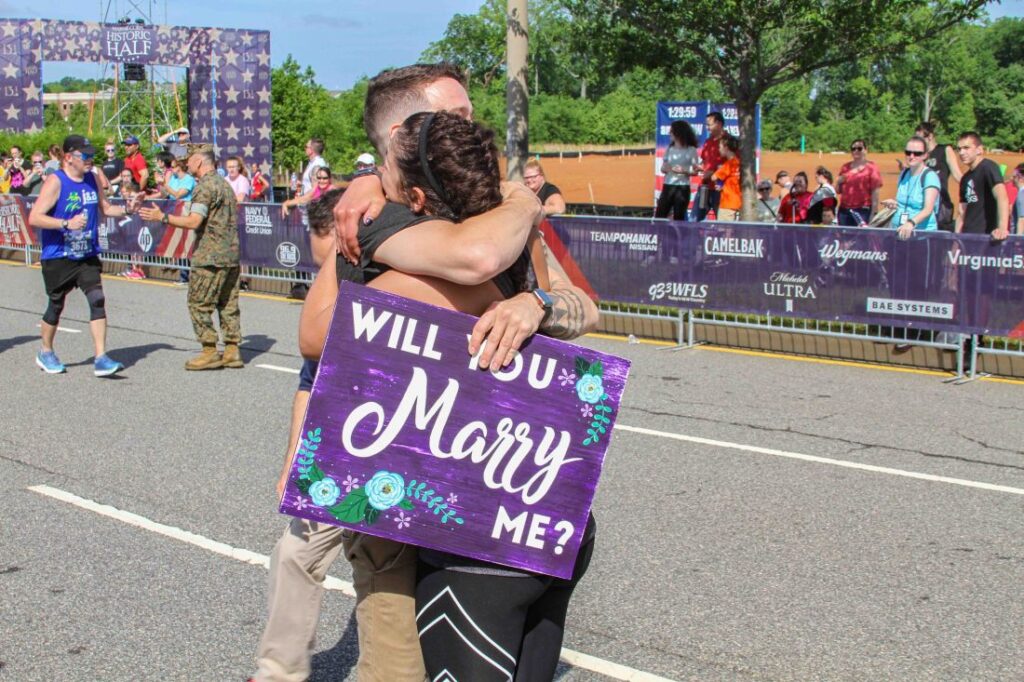 Amanda had just finished her fifth Marine Corps Historic Half (MCHH) and received her finisher's medal when she was pulled aside by a Marine for a 'random' media interview.
Instead, she was met by her boyfriend Chet-Tyler holding a sign that read "Will you Marry Me?"
Chet-Tyler said he'd been thinking of popping the question for a year, and after talking it over with Amanda's parents, figured the Historic Half would be the perfect setting because her family would be there.
Completely surprised and emotional, Amanda mustered a nod to respond 'yes' in one of the first known marriage proposal at the Historic Half finish line.
Start Line Wedding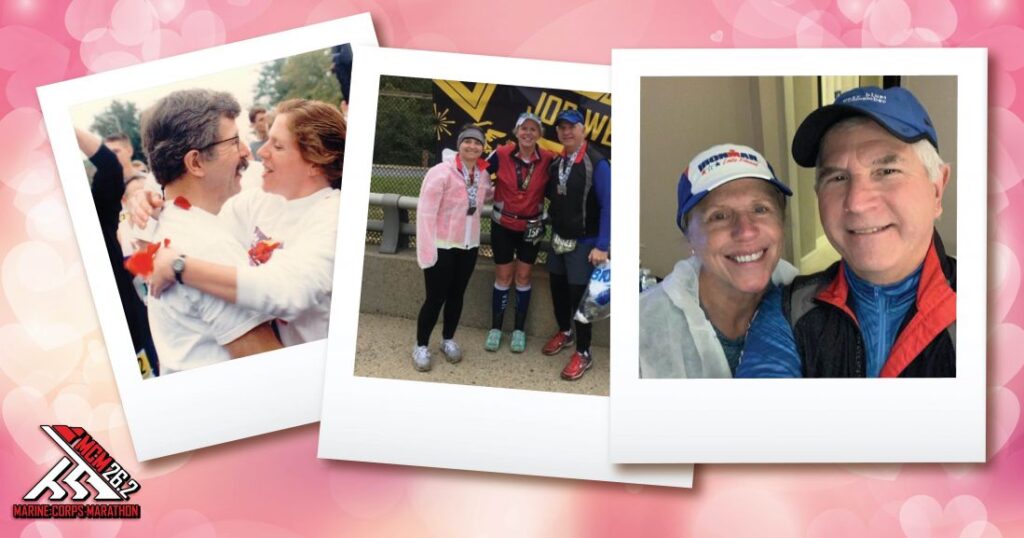 While the marathon finish line is a popular spot for proposals, the MCM start line has also served as the beginning of a new life together for one couple in particular, Bob and Kirt Elling.
On October 27, 1996, Marines, spectators and family members gathered around the start line of the 21st Marine Corps Marathon (MCM) as the two said 'I do.' Dressed in running gear and singlets that said 'just married,' the newlyweds proceeded to run the marathon together.
"We both worked as paramedics together and that's how we met. When we decided to get married we wanted to do something different. I had just lost a bunch of weight and had been running to keep it off," shared Bob.
Although he ran in high school, he didn't compete. Kirt, on the other hand, was just getting into the running scene and one of her goals was to run a marathon by her 30th birthday. He was running his first marathon; this was her second.
"We come back every year to celebrate our anniversary and we wear our singlets that say 'it's our anniversary.' There are people who actually remember us actually," said Kirt. "I did the ultra in 2019, while Bob ran the 10K."
Related Articles
In 2024, runners can now register for all five event weekends at one time with the 2024 Distinguished Participant bundle. Take on the Marine Corps 17.75K, Marine Corps Historic Half, Quantico 12K, one of the MCM Weekend events (MCM10K, MCM or MCM50K) and the Turkey Trot and earn a special medal! The Distinguished Participant bundle […]
In 2024, the Semper Fidelis Challenge will once again encapsulate the Marine Corps Marathon Organization's three premiere events and bring them together in an exciting new way. The Semper Fidelis Challenge will now be available as a bundle! This bundle will go on sale November 17 for Active and Reservist military and November 18 for […]
On Sunday, October 29, 2023, Marine Corps Marathon Weekend runners were faced with unseasonably warmer conditions leading to a rapid increase in medical support. During the event, it was advised by our local Emergency Medical Service partners and the MCMO medical team to implement two gauntlets earlier than planned for the health and safety of […]