Regis Canny is not a lifelong marathoner. In fact, he ran his first ten miler when he was 54 on a challenge from a friend, and then he ran his first marathon the next year to celebrate his "double-nickel" birthday, his 55th. But a seemingly random wardrobe choice at his second-ever marathon led to Air Force veteran Regis Canny becoming one of Fisher House Foundation's best running fundraisers, raising nearly $75,000 and counting.
When Regis first ran the Marine Corps Marathon (MCM), he was surprised by the size of the crowds and how people came together in a patriotic spirit.
"And, you know, I really never saw that even on active duty, hundreds of thousands of people just cheering," he said. "And the Marine Corps [Marathon] really got to me because I was running along and there was a young girl in front of me. She had a picture on her back and as I came up, I looked at the picture and it said, 'proud widow of Lance Corporal Jones.'"
"And it just hit me that this woman was out running her first marathon in honor of her husband who had been killed," he said. "It really got to me. I think maybe it helped, helped me finish a very good time for the first time ever running. So, I'm going to do it again the next year."
But Regis was late signing up for the MCM. There was an alternate option: bibs were available through the charity partner program. Regis decided to grab one of them and just pay the fundraising requirement himself. He knew about Fisher House Foundation from the radio, and he decided that he'd send his money there.
"I got a package from Fisher House that had a little singlet that had 'Fisher House' on it," he said. "And I thought, well, if I paid $500, I'm going to wear this jersey. So, I pulled it on. I had no idea what it was going to mean."
At the time, Fisher House Foundation recruited volunteers to assist runners during the event, and Regis was surprised when one of them came to check on him both before the race and when he started to struggle.
"After the 20-mile point, I hit the wall," he said. "It got so hot, I just about collapsed."
The volunteer returned and provided Regis with salt, a nutrient that endurance athletes can run short on, especially on hot days as they sweat it out.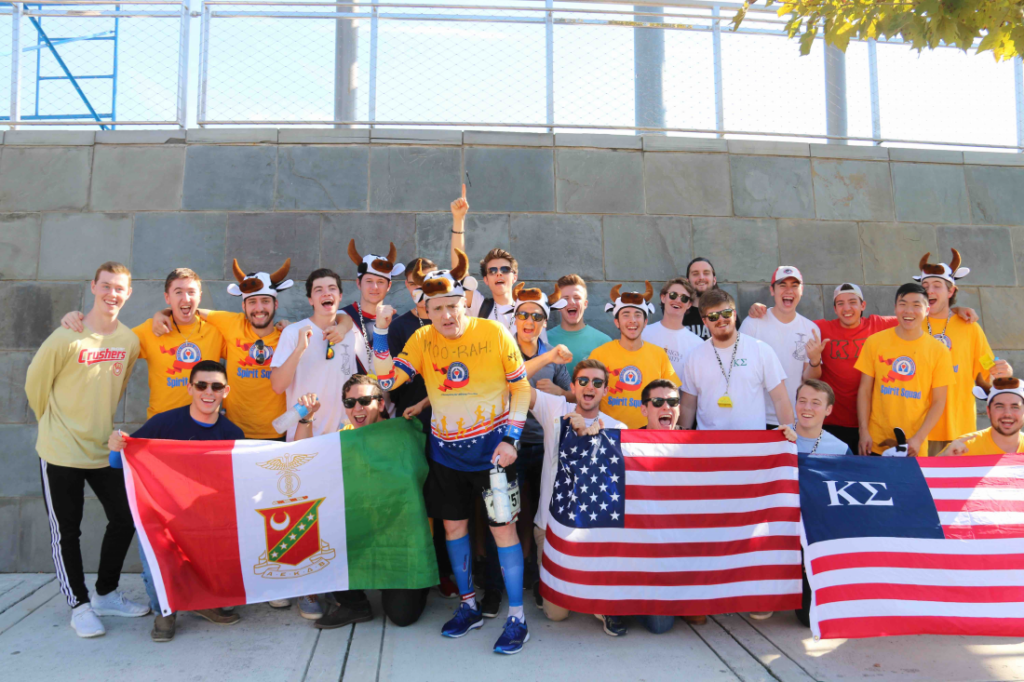 Regis was able to finish, and he decided to apply his marketing skills to actually fundraise for the Foundation. The next year he raised $2,000. Then he started collecting Fisher House gear and fundraised harder. Now, after 13 years of fundraising, he's trying to get his total over $75,000. In two more years, he thinks he can clear $100,000.
Those funds raised by Regis are used to help military and veteran families going through medical crises or who have suffered the loss of a loved one in military service. When he runs the MCM or other races while wearing a Fisher House jersey, Regis is sometimes joined by fellow runners who share their Fisher House story.
"I was running and I happened to be the top fundraiser that year. I had the little sign on my back. 'Fundraiser.' Lady comes up, taps me on the shoulder and says, 'Can I give you a hug?' And she was running. I said, 'Look, you're as sweaty as I am. If you don't mind, I don't mind.' And she said, 'Well, I'll give you the hug and I'll explain why.'"
As they ran together, she told Regis her story.
"She said, 'Two years ago, I had to have emergency surgery. My husband is a retired Army master sergeant, but we live up near Cleveland. We were able to go to the VA hospital there and my husband wanted to be with me, but he didn't know where to stay. And for four nights he got to stay in a Fisher House that had just opened, and he couldn't believe it. And we were so impressed.' And she said, 'I was thrilled that he was so comfortable that he didn't have to worry about where he was staying. He could be there for me.'"
Others told him more. Another runner was a mother who stayed at Fisher House for two years after her son was injured. At a pasta dinner, he met the parents of Marine and Medal of Honor recipient Kyle Carpenter and they shared their Fisher House story. Another mother learned of her son's injuries on Christmas Day and was relieved to be welcomed by Fisher House that night. An amputee told Regis that he ate his first meal with his prosthetic at a Fisher House.
Written by David L. Nye, Senior Communications Specialist at Fisher House Foundation.
Fisher House
Fisher Houses around the world are "a home away from home" for military and veteran families while a loved one is undergoing care at a military or Department of Veterans Affairs medical center. The comfort homes, travel services, scholarships, and more programs of Fisher House Foundation have saved military families over $500 million since 1990.
Related Articles
In 2024, runners can now register for all five event weekends at one time with the 2024 Distinguished Participant bundle. Take on the Marine Corps 17.75K, Marine Corps Historic Half, Quantico 12K, one of the MCM Weekend events (MCM10K, MCM or MCM50K) and the Turkey Trot and earn a special medal! The Distinguished Participant bundle […]
In 2024, the Semper Fidelis Challenge will once again encapsulate the Marine Corps Marathon Organization's three premiere events and bring them together in an exciting new way. The Semper Fidelis Challenge will now be available as a bundle! This bundle will go on sale November 17 for Active and Reservist military and November 18 for […]
On Sunday, October 29, 2023, Marine Corps Marathon Weekend runners were faced with unseasonably warmer conditions leading to a rapid increase in medical support. During the event, it was advised by our local Emergency Medical Service partners and the MCMO medical team to implement two gauntlets earlier than planned for the health and safety of […]