David Lane has been volunteering with the Marine Corps Marathon Organization (MCMO) for the last 20 years. As the Emergency Coordinator of the Prince William County Amateur Radio Emergency Service, Lane has been a key part of organizing the local amateur radio or HAM support for MCMO events.
As we highlight his efforts for National Volunteer Week, here's what Lane had to share about volunteering with the MCMO:
What inspired you to start volunteering?
I have always volunteered in some form. I have been a volunteer instructor and instructor-trainer with the Red Cross, mentored my fellow students and given back to my community in some way or another. One of the reasons I became an amateur radio operator was to be able to volunteer more in my community.
What attracted you to the MCMO?
I think I was drafted. Kidding. I volunteered to work at the Marine Corps Marathon (MCM) in 2001. I was assigned to mile marker 25, complete with the security requirements. It was a very long day but I've been volunteering with the Organization ever since.
What motivates you to stay involved?
As the Emergency Coordinator of the Prince William County Amateur Radio Emergency Service, volunteering gives us the opportunity to practice a number of skills that we would not otherwise get to practice, include deploying to unusual – or unfriendly (no power, bugs, trees, hills, weather) – environments and still be effective in our ability to communicate with each other and the MCMO. Short of a real emergency, that is not generally possible.
What's your favorite part of volunteering at MCMO events?
The T-shirts! Seriously, the shirts are great, but the MCMO events are well organized and professionally run. We know what is expected of us and what value we can bring to the event. The MCMO further allows us to practice things we might never get a chance to practice.
What do you find most challenging about volunteering?
Volunteering is hard. It has gotten harder since the base changed access policies. Because of the events, the MCMO has done over the years, the early mornings make it challenging when you have to be on the station at 3 a.m. Because the events are rain or shine, when it is a nasty day, you still have to perform. And we have all participated in events where we wondered if we would ever defrost when it was done, and those were spring events! The size and scope also make it challenging as an organizer to ensure I have the right people with the right skills in the right locations, especially for the MCM and the larger on-base events.
What is your most vivid memory from your time as a MCMO volunteer?
Wow, there are so many. Sitting at Mile 25 for an entire day wondering when it might end. Swatting bugs while walking the course trying to find a misplaced runner. Getting turned around more than once in the backwoods of the base when trying to find my station. Wondering why it was so cold at 10 a.m. But most importantly, watching the runners come out year after year to challenge themselves on the course and knowing that as bad as that last hill was, they will fight their way through the next hill until they cross the finish line.
What would you tell someone who is thinking about volunteering?
You will not regret it. You will have fun and you will meet interesting, exciting people who only make you want to come back and do it again.
If you're inspired by this feature, check out volunteering opportunities with the MCM Organization.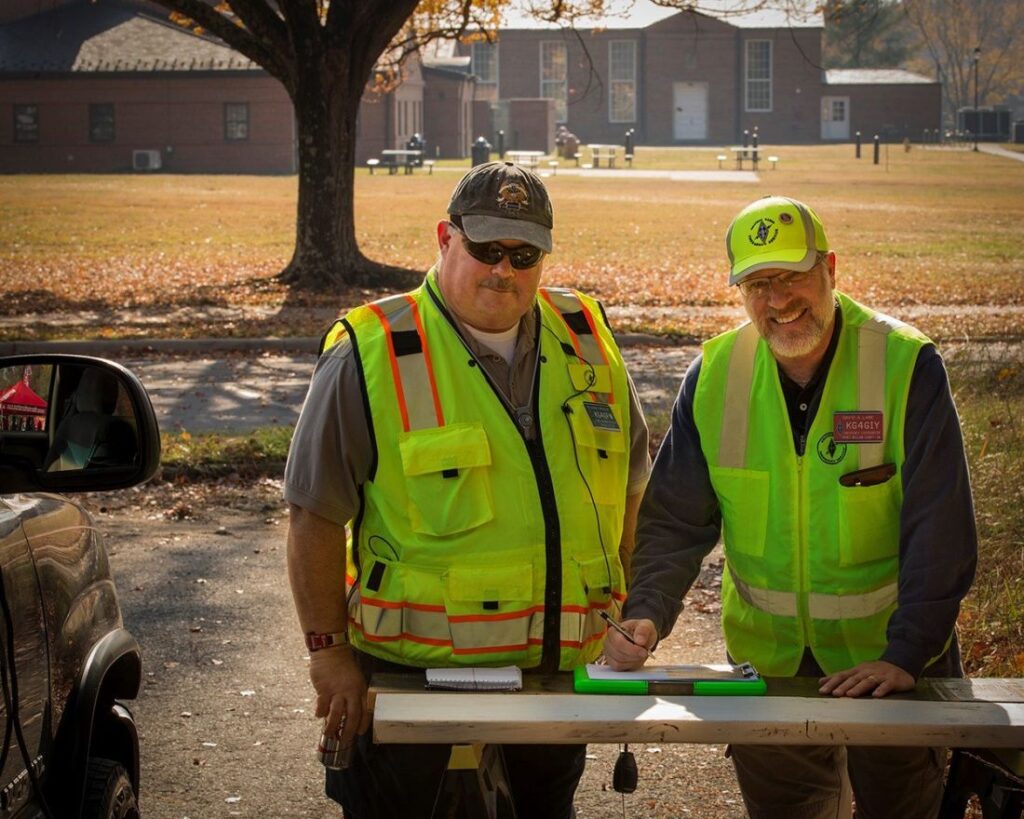 Richard Spencer, KG4GFW (left) and David Lane, KG4GIY (Right) at the 2016 Turkey Trot 10K. Photo courtesy of Andy Gamponia, KJ4MTP
Related Articles
In 2024, runners can now register for all five event weekends at one time with the 2024 Distinguished Participant bundle. Take on the Marine Corps 17.75K, Marine Corps Historic Half, Quantico 12K, one of the MCM Weekend events (MCM10K, MCM or MCM50K) and the Turkey Trot and earn a special medal! The Distinguished Participant bundle […]
In 2024, the Semper Fidelis Challenge will once again encapsulate the Marine Corps Marathon Organization's three premiere events and bring them together in an exciting new way. The Semper Fidelis Challenge will now be available as a bundle! This bundle will go on sale November 17 for Active and Reservist military and November 18 for […]
On Sunday, October 29, 2023, Marine Corps Marathon Weekend runners were faced with unseasonably warmer conditions leading to a rapid increase in medical support. During the event, it was advised by our local Emergency Medical Service partners and the MCMO medical team to implement two gauntlets earlier than planned for the health and safety of […]